Community Health and Wellness (Chawtxllc) Choir
Come join us for our Choir! Does your child like to sing? Perform? Learn new music styles? Make new friends? Well, this is the place for them! Community Health and Wellness offers individuals of ALL ABILITIES the opportunity to join together through music. Individuals who are non-verbal may join in by playing an instrument, such as a tambourine or shaker. We want to make space for you and your loved ones!
Our choir themes vary as well as age levels and abilities. Throughout the year, we also choose soloists to perform and bless the community. We partner with local nursing homes to bless their residents and encourage inter-generational bonding.
We are so excited to bring together individuals who love music. This class provides a unique opportunity to:
Develop New Music Skills
Learn to Sing as a Group
Build Self-Confidence
Develop Concentration
Improve Focus
Make New Friends with a Common Interest
Our classes are scheduled seasonally, and we have performances periodically throughout the year. Events dates for our choir can be found on our Facebook page.  Contact us today!
Eligibility Requirements:
All students must be able to remain within the bounds of a group setting for a minimum of 1 hour or must have aide, parent, and/or legal guardian present to accompany the child as needed. Children must be able to go to the bathroom themselves, be potty trained, or have an aide, parent, and/or legal guardian with them to help assist in the bathroom. Community Health and Wellness, LLC will not provide an aide for participants. Aides/parents may attend the classes at no additional charge.
Where: ​1 Chisholm Trail, Suite 340 Round Rock, TX 78681 (Tower Building, 3rd Floor)

Our choir can also be set up as a mobile program. Contact us for details!
---
When:  Contact our office, or see our Facebook calendar events for more details.
---
JOIN US — Please join us for a fun filled, musical adventure. All abilities welcome. Contact us today for more details!
For more information on our services, please reach out to us via phone at 512-961-5316 or email us at info@chawtx.com.  Service prices and availability may vary based on location, client needs, and staff credentials.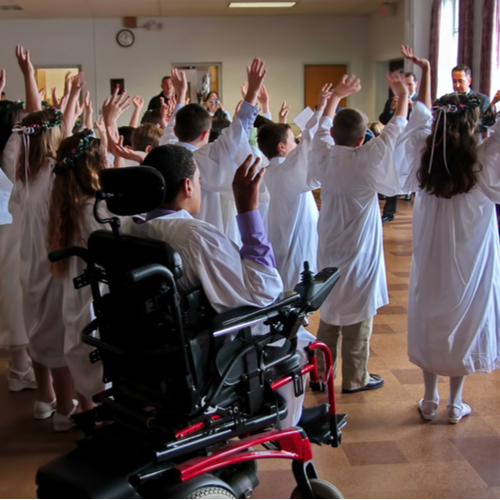 We treat individuals with:
Intellectual Disabilities
Physical Disabilities
Neurological Disabilities
Mental Health Diagnoses
Emotional, and/or behavioral challenges